Tool yang ringan, murah dan efisien buat anda yang bermasalah dengan indexing search engine. Punya banyak url post/url backlink yang tidak nyantol/terindex di google bisa pake tool Seo Fast Indexer ini. Fungsinya ada 2 yaitu untuk melakukan ping ke 100 an RPC ping site dan men-submit URL ke meta site.
Fungsi Seo Fast Indexer ini mirip dengan Rapid Indexer nya Scrape Box, namun menurut saya dengan tool ini prosesnya lebih cepat. Tersedia opsi untuk memasukan proxy juga, jadi tingkat kegagalan ping dan submit bisa dikurangi. Harganya yang hanya $4,97, murah banget makanya tool ini sekarang sedang jadi tools terlaris di JVzoo.
Seo Link Robot  – Fast Indexer Pro EditionVersion 2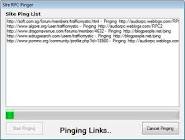 What You CAN Do With This Product:
[YES] Install and use on as many pc's as you wish.
[YES] Give away.
[YES] Offer as a Bonus.
[YES] Offer as Subscriber Incentives.
What You Cannot Do with this product
[NO] Sell at Online Auctions.
[NO] Charge any price I want.
Untuk Meta Site Submit terdiri 3 opsi jumlah meta site yang kita proses, total ada sekitar 32k meta site/indexing service, jadi kurang lebih sejumlah itu maksimal backlink yang bisa anda buat.
Tak ada gading yang tak retak, sayang sekali tool ini tidak memberikan report setiap kali anda melakukan ping dan submit, jadi tidak tau mana yang gagal dan yang berhasil.
Tertarik menggunakan SEO fast indexer, mumpung harganya masih murah, belum dinaikan seiring larisnya barang ini 🙂
Cek saja sales letternya disini : SEO Fast Indexer