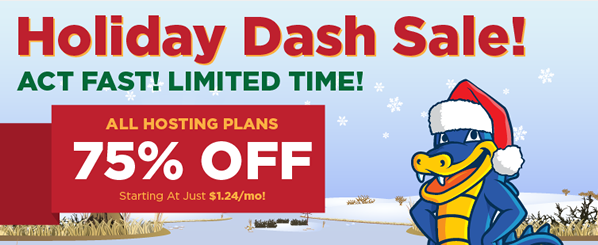 Hostgator Holiday Dash Sale – 75% Off New Hosting!
Setelah momentum Hostgator Blackfriday akhir November lalu, hari ini Hostgator berikan kupon diskon 75% lagi, tapi momen Flash Salenya sangat singkat berikut informasinya:
—
Happy Holidays from HostGator! 'Tis the season to celebrate with 75% off new hosting! We will be running a flash sale tonight at 12am CST, and another one at 10am CST. Both flash sales will run for three hours. Here are the sale details:
Tuesday, December 16th: 12am CST – 2:59am CST
Tuesday, December 16th: 10am CST – 1pm CST
The offer is only valid on new hosting packages, not applicable on renewals or existing hosting plans.
—
Berdasarkan informasi di atas, Flash Sale Hostgator 75% OFF live 2 kali yaitu di jam 00.00 WIB – 02:59 WIB tanggal 16 Desember 2014 dan satu lagi pada jam 23.00 WIB tanggal 16 Desember – 02.00 WIB tanggal 17 Desember 2014. (Ini sudah waktu Indonesia Bagian Barat).
Ini akan menjadi Flash Sale terakhir dengan diskon terbesar Hostgator untuk tahun 2014. Bagi Anda yang ingin memanfaatkannya bisa order Hostgator diskon 75% ini hari ini. Diskon ini hanya berlaku untuk akun baru, tidak bisa untuk renewal plan.
Saya sudah order hosting di Hostgator dengan diskon 75% waktu momen Blackfriday akhir November lalu. Saya order business Plan untuk 3 tahun sekaligus, yang harga normalnya yaitu $466 untuk 3 tahun, didiskon 75% menjadi hanya sekitar $116, njomplang yaa hargaa :2thumbup
Pengalaman saya order di Hostgator kemarin, aktifasi add on lumayan lambat, mungkin karena banyak yang memanfaatkan momentum diskon besar ini, CS nya kewalahan jadi sedikit lambat, tapi lambatnya order saya untuk aktifasi SSL nya, untuk hostingnya sudah langsung aktif ketika order Anda bayar. Ini adalah kelebihan order hosting di provider sekaliber hostgator, ketika invoice terbayar, akun hosting kita langsung aktif dan bisa disegera dimanfaatkan. Sedikit berbeda jika order hosting di hosting lokal, udah service nya agak lambat, aktifasi juga lama. Beberapa kali saya coba order di provider hosting lokal, akhirnya saya cancel dan refund karena aktifasinya lama minta ampun.
Yang ingin memanfaatkan kesempatan diskon Hostgator 75%, langsung saja ke www.hostgator.com